2006 – "Birds" – Chico MacMurtrie / Amorphic Robot Works (Mexican/American)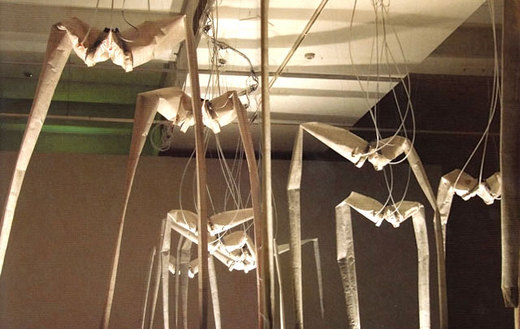 Friday, February 10, 2006
Inflatable Body sculptures premiere in Australia
ARW will workshop and premiere 16 new Inflatable Body sculptures in Adelaide Australia, March 3 – April 8, 2006, in a series presented by the Experimental Art Foundation. These new Bird sculptures represent a continuation of Amorphic Robot Works' research into materials and improved sculptural control. posted by ARW at 7:40 PM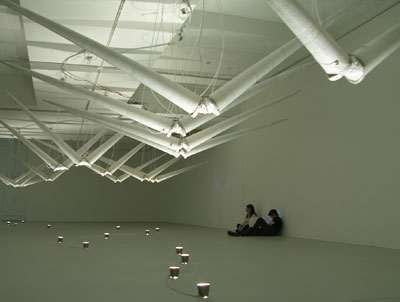 ROBOTIC ARTS, INFLATABLE AESTHETICISM
22 February — 8 APRIL 2006
Robotic Arts, Inflatable Aestheticism is a project comprising exhibition, workshop, and presentations by Chico MacMurtrie, one of the world's leading artists using robotic technologies.
Robotic Arts, Inflatable Aestheticism is an innovative development project which implements evolving technologies for the new generation of robotic sculpture.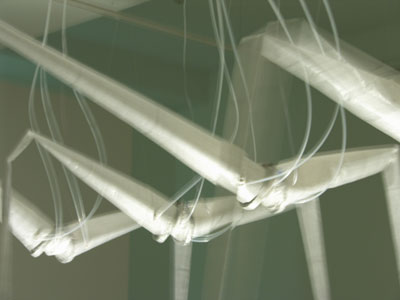 Chico MacMurtrie – born in New Mexico and now residing in New York – is the Artistic Director of Amorphic Robot Works. Formed in 1992, Amorphic Robot Works is a New York-based group of artists, engineers and technicians working together to create robotic performances and installations. Chico MacMurtrie describes his vision: "The work is an ongoing endeavor to uncover the primacy of movement and sound. Each machine is inspired or influenced, both, by modern society, and what I physically experience and sense. The whole of this input informs my ideas and work." The Amorphic Society includes more than 100 interactive and computer-controlled human and abstract machines ranging in size from 30 centimetres high to 10 metres long. www.amorphicrobotworks.org
Inflatable Bodies
EXHIBITION
A New Generation of Robotic Sculpture from Amorphic Robot Works
Featherweight and inflatable, the giant 'performing' installation from Amorphic Robot Works is a new kind of robotic sculpture – one that responds to your every move. With its four, ceiling-high telescoping totem poles and 10-metre long artery system, the creator Chico MacMurtrie and his ground-breaking group of artists and engineers have created an anthropomorphic and highly interactive installation. Employing pioneering robotic and construction techniques, the 'inflatable body' sculpture explores the parallels that exist between humans and machines, and MacMurtrie's fascination with a machine's ability to depict the most primal aspects of the human condition.
3-19 March: 10-5 Daily; 20 March-8 April: 11-5 Tues-Fri; 2-5 Sat; Admission Free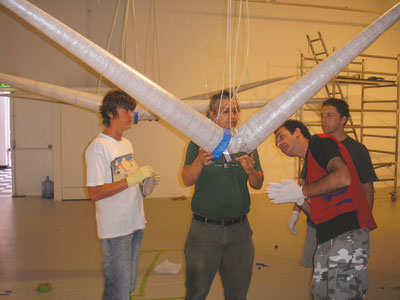 WORKSHOP
The Creation of Robotic Arts
Workshop Leader: Chico MacMurtrie
The Robotic Arts Workshop will serve as a practical and theoretical platform for the creation of new generations of robotic sculpture and installation, developed by Chico MacMurtrie and Amorphic Robot Works. The event will urge the creation of robotic arts by Australian artists, as the Workshop provides a hands-on exploration of robotic technologies. Drawn from national registration, artists and robot makers will take part in the workshop and assist Chico MacMurtrie in the building of the robotic structures for the exhibition. ChicoMacMurtrie and two other crew members from Amorphic Robot Works are conducting the Robotic Arts Workshop in relation to their upcoming exhibition at the Experimental Art Foundation entitled Inflatable Bodies : A New Generation of Robotic Sculpture from Amorphic Robot Works as part of the Adelaide Bank Festival of Arts 2006. (The exhibition will take place in the period March 2 – April 8, 2006)
ARW will arrive with new work created specifically for the installation, and will be equipped with the tools to create new site specific inflatable robotic elements from scratch.
The Workshop will allow participants to get involved in all of the aspects of completing this complex installation, including: sewing new inflatables, gluing new inflatables, installing feedback sensors, programming max, and other midi software, hooking up pneumatic systems, wiring, modeling components on the computer, using rhino, lamina design and solid works, welding aluminum parts.
Workshop Dates: February 24 – March 7, 2006
Venue: Experimental Art Foundation
Australian Artists of all types and technicians interested in art can come together each bringing their talent and hopefully walking away with new incite and skill to contribute to there own work. After the installation opens on Thursday 2 March, the Workshop will continue to introduce new elements to the installation each day.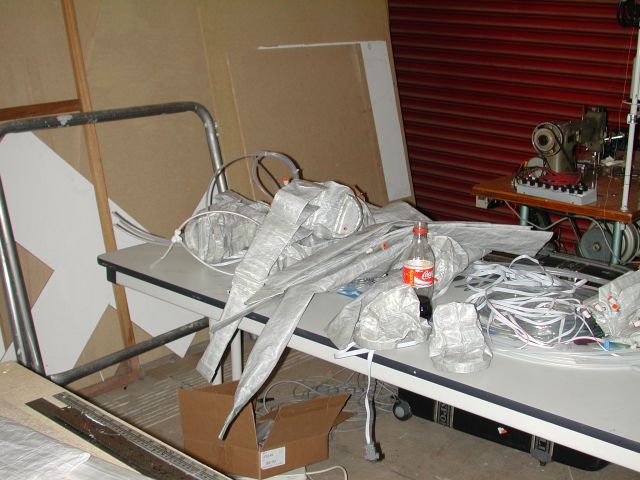 Construction of the Birds in Adelaide 2006.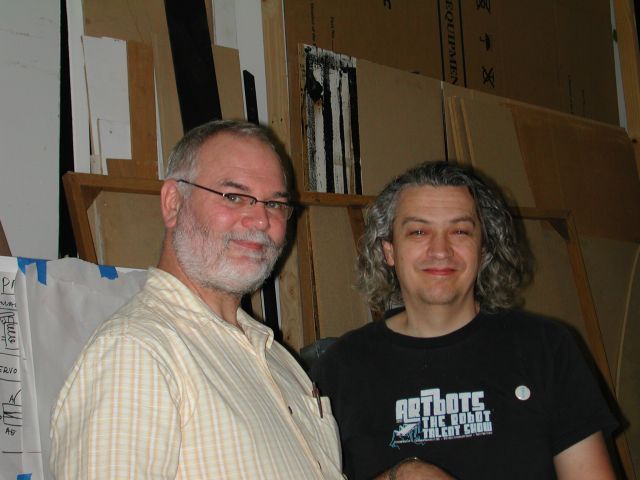 The author, Reuben Hoggett with Chico MacMurtrie in the workshop where the "Birds" were being constructed 4 Mar 2006.
---
Wednesday, February 01, 2006
Inflatable Body Birds installation in Spain
ARW will premiere 5 new Inflatable Body pieces as part of MARTE Málaga Arte y Tecnología festival (translation), February 14-19 2006, sponsored by the government of Andalucia, an autonomous region of Spain. The Inflatable Body sculptures are a new generation of permanent work from ARW that will completely eliminate the limiting factors of weight and size of previous work to allow for a broader exhibition base. Humanoid forms will arise from high-tensile inflatable fabric skeletons, formless until air inflates the bones. Servo-controlled air bladders will run all of the inflatable muscle groups, which will animate these bones. The possibilities for range and kind of movement are as broad as that for muscle and bone, but with little of the mass. -posted by ARW
---
See other Pneumatic, Fluidic, and Inflatable robots here.
---
Tags: "Birds", "Inflatable Bodies", 2006, American, Amorphic Robot Works, Chico MacMurtrie, Mexican, Pneumatic Robot, Pneumatic Sculpture