1980-1 – "SUPERKIM Meets ET-2" – D. F. McAllister (American)
Extract from 1980's article:
The articles present experiences in interfacing and programming a SUPERKIM single board computer for the control of a Lour Control ET-2 robot shell. The ET-2 (Experimental Transmobile with 2 drive motors) consist of a three level frame powered by two separately driven wheels and balanced by a free caster.

Part 2 adds the sensors to give it true 'feedback'.

The SUPERKIM controlled ET-2 robot is an excellent, moderately priced system to which the robotics experimenter can easily add more sensors and other equipment.

The contact sensors … can be used to demonstrate obstacle avoidance behaviour in a suitably prepared environment.
see Robotics Age pdf's here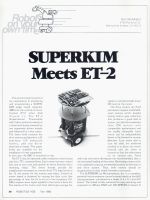 and here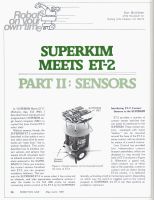 .
Tags: 1981, American, Cybernetic Animal, D. F. McAllister, Mobile Robot, SUPERKIM Meets ET-2