1964 – Cybernetique Tortue (Cybernetic Tortoise) – Armand Delsemme (Belgian)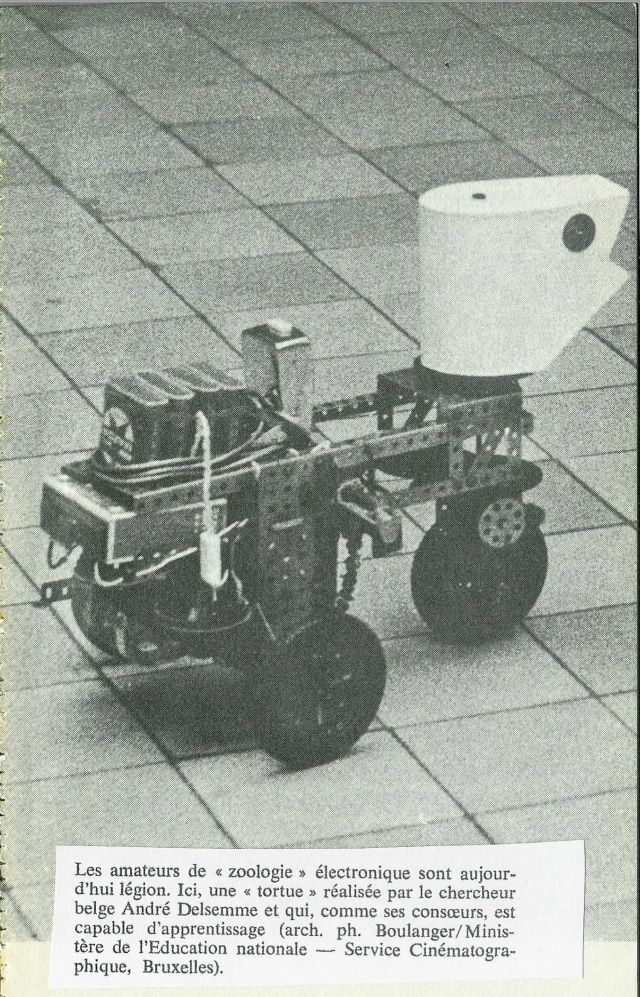 Les amateurs de « zoologie » électronique sont aujourd'hui légion. Ici, une « tortue » réalisée par le chercheur belge André[sic] Delsemme et qui, comme ses consoeurs, est capable d'apprentissage (arch. ph. Boulanger/Ministère de l'Éducation nationale — Service Cinématographique, Bruxelles).
English Translation
The amateurs of electronic "zoology" are now legion. Here, a "cybernetic tortoise" made by the Belgian researcher André[sic] Delsemme and who, like his colleagues, is capable of learning (arch. ph. Boulanger / Ministry of Education – Film Service, Brussels).
Thanks to my friend Paul-Alain Amouriq for this picture.
[Aug 2015: Ed. Although the article refers to André Delsemme, it has been suggested by some that it should have referred to Armand Delsemme, the noted Belgian research scientist . The original image appeared in an article by Georges R. Boulanger c1968.]
---
English translation:
Cybernetics is a Belgian short documentary of 27 minutes, directed by Jean-Marie Piquint in 1964. Cybernetics, its principles and its first applications presented from the perspective of a third industrial revolution with robotics. The film presents and demonstrates, among other things, the principles of William Ross Ashby homeostat and electronic tortoise Armand Delsemme (sometimes erroneously named André Delsemme) in the offspring of William Grey Walter works whose creations called Bristol turtle signed the beginnings of robotics. Production and realization: Jean-Marie Piquint. Comments by Richard Muller said. Scientific Advisor: R. Georges Boulanger. Black and white real views Gevaert filtered Gevacolor color. Jean Coignon animated diagrams. Collection of the film library of the Ministry of the French Community of Belgium. Primo Premio Assoluto: International Science Film Festival in Vicenza (1965). Special Award: Industrial International Film Festival in Rouen (1965). Special mention for color processing: International Festival of Barcelona (1965).
Source: here.
---
See all the early Cybernetic Animals here.
---
Tags: 1964, 1968, Andre Delsemme, Armand Delsemme, Belgian, Cybernetic Animal, Cybernetic Creature, Cybernetic tortoise, Cybernetic Turtle, Cybernetics, Cybernetique Tortue, Meccano, Meccano Models, Meccano Robot, Robot