1959 – "DUHAB" (Detector of Undesirable HABitués) by Lawrence Lipton / Bill Riola.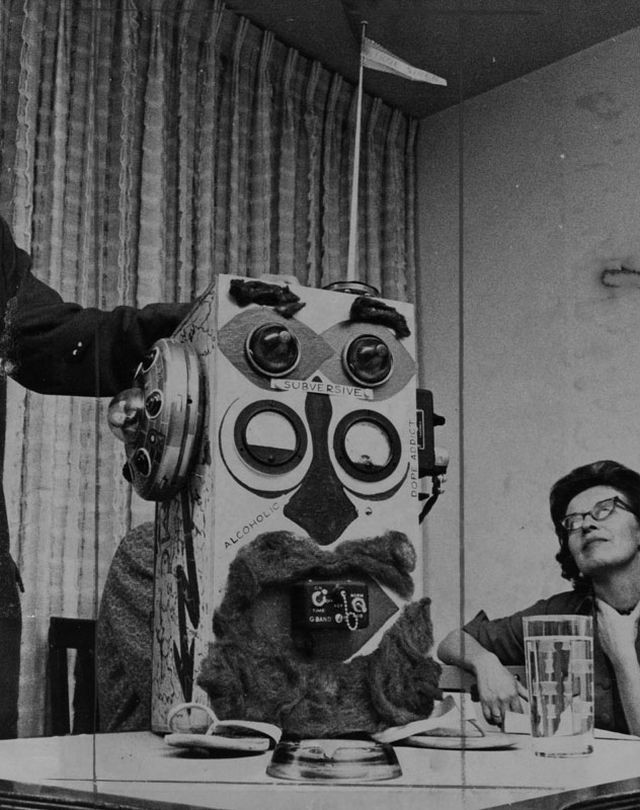 Photograph caption dated December 5, 1960 reads, "Electronic Cat Detects Subversives for Beatniks. Duhab accompanies poet-author Lawrence Lipton to weed out undesirables."
Image source: The Los Angeles Public Library.
Lawrence Lipton was talking to the Valley College Writer's Club.
---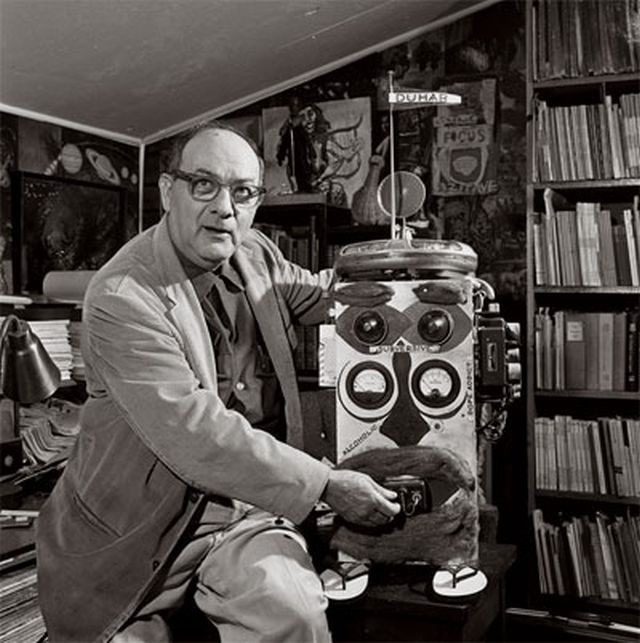 Source: The beatnik DUHAB robot
Posted By: Scott Harrison | February 7, 2012
July 19, 1965: The original published caption reported:
GADGET FOR TODAY–Author Lawrence Lipton, chronicler of the beatnik scene, demonstrates his "robot," Duhab (Detector of Undesirable HABitués). Lipton says robot ferrets out the undesirables – including censors, book-burners.
By 1965, media outlets were reporting the beatnik era over. Not so, claimed Lipton, whose 1959 best seller, "The Holy Barbarians," chronicled the Venice scene. As quoted in a Times article by staff writer Doug Mauldin, Lipton explained, "What happened is that the artistic element has gone underground. Artists, writers, painters and avant-garde filmmakers live and work in their own pads."
"And there are two or three times as many true beats here as there were in the 1950s when they were getting all the publicity."
But, as pointed out in Mauldin's story:
He (Lipton) is particularly bitter about past campaigns to rid Venice of the Beatniks.
"The Venice West beat scene was the most promising attempt ever made to bring avant-garde culture to Southern California, and it was murdered by self-righteous, puritanical busy-bodies and hostile police," he said.
The above portrait of Lipton accompanied Mauldin's story in the July 29, 1965, Westside Edition of the Los Angeles Times.
---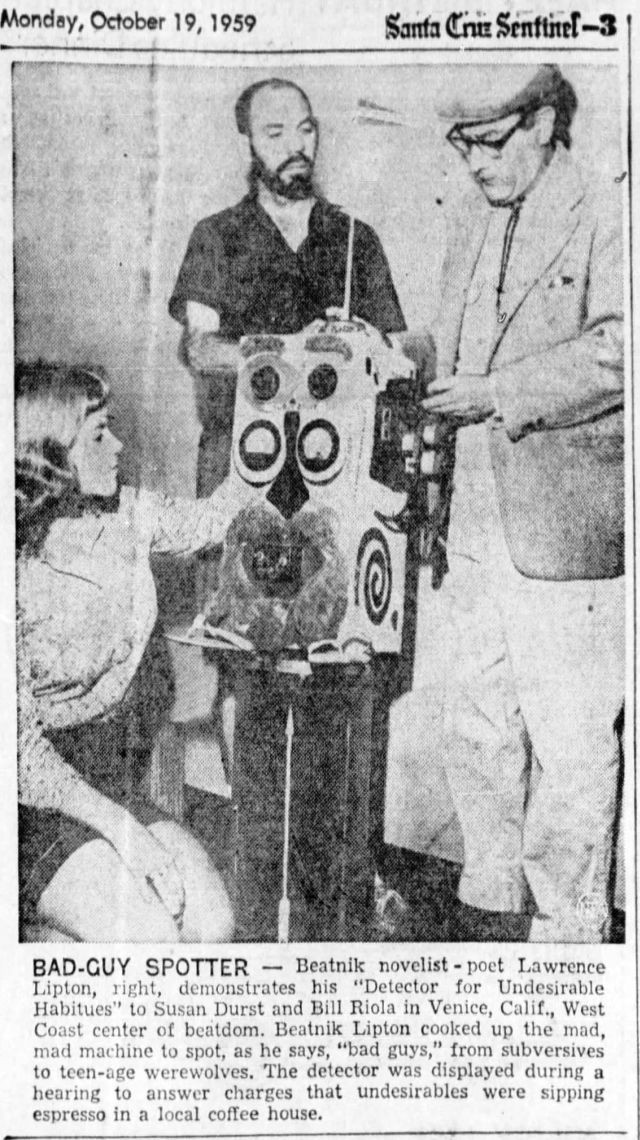 ---
Source: Venice West: The Beat Generation in Southern California by John Arthur Maynard – 1991, p 123
Larry Lipton, as "director of entertainment" for the Gas House, seemed torn between wanting to win and wanting to be right. Shortly after one of the police commissioners told him he had a responsibility to keep "undesirables" out of the Gas House, Lipton returned with an extraordinary contraption which he solemnly described as an "electronic doorman." Built to his specifications by the Gas House light crew and decorated by Bill Riola, it was a primitive but functioning robot with a little popeyed face, a built-in tape recorder, and an incredible array of sirens, whistles, bells, and flashing red lights. "Duhab"—short for "Detector of Undesirable Habitués"-was described as being able to sense the approach of "teenage werewolves, dope addicts, sex fiends, subversives, alcoholics, and homosexuals (male and female)," and members of the Venice Civic Union-in which event, all of its alarms were set to go off at once. Duhab made good theater, but bad hearing strategy; it helped make Lipton himself the issue, and gave the hearing examiner, Officer Thomas Mulhern, the opportunity to focus on the "moral character" of those who would be directing "the proposed entertainment."
---
Source: The Van Nuys News (Calif.), Sunday, Oct. 18, 1959
Two-Week Delay Ordered in Venice 'Beatnik' Hearings
The West Venice "Beatniks" will have to wait two weeks before their request to have a City Police Commission examiner disqualified will be considered.
The commissioners refused Wednesday to discuss charges of prejudice against examiner Thomas Mulherin, who conducted hearings for an entertainment licence at a beatnik "culture center" known as the Gas House and located in West Venice.
Cries "Unfair!"
President John Ferraro said the disqualification charges will not he discussed until all commissioners have had a chance to study the transcript, which includes more than 1000 pages of testimony.
Atty. A. L. Wirin, representing Atty. Al Matthews, owner of the Gas House, told the commission that he was being treated unfairly and that he had been told the matter would be on Wednesday's agenda.
Ferraro speculated that it would be two weeks before the commissioners will he prepared to discuss the matter.
In a brief filed last week, Wirin accused Mulherin of "unfair and prejudicial conduct" in conducting hearings on an application for an entertainment permit at the Gas House, 1540 Ocean Front Walk.
Wirin, accompanied by Matthews and beatnik author Lawrence Lipton, was not permitted to discuss the matter at all at Wednesday's session.
Complaint Detailed
Before the session, Wirin said he would base his arguments on three main points brought out by earlier hearings in which he claims Mulherin showed "prejudice and bias" against the beatniks. They are:
1—That Mulherin said he doubted whether Lawrence Lipton, author of "The Holy Barbarians," knew the meaning of the word "moral."
2—That Mulherin said he doubted—after reading Lipton's book—that Lipton was a responsible person to manage entertainment at the Gas House.
3—That Mulherin accused Lipton of injecting the racial issue into the hearings when, Wirin said, it was the commission's representative who injected it into the hearings prior to Lipton's testimony.
Wirin said he will cite numerous items in the transcript of earlier hearings to support his motion to disqualify Mulherin.
Have Poetic Robot
The newly-formed defense committee for Culture in Venice, headed by Robert Chatter-on, announced that several mass meetings will be held to raise money for the entertainment license fight. At these meetings, typical Gas House entertainment programs will be offered, it was stated.
One of the meetings will be held in the Gas House, but a beatnik robot—that writes and recites poetry with music—will be used.
"The idea." Chatterton explained, "is that a robot does not rate as 'live entertainment,' which the police have banned at the Gas House, pending the license hearings.
Names New Device
The beatniks promised to bring to this afternoon's hearing the bearded and sandaled Duhab, the electronic robot "detector of undesirable habitués," which Lipton said is capable of "screening out alcoholics, dope fiends, teenage werewolves and other undesirables at the door, thus evading the wrath of the Venice Civic Union.
"A new detection device has been added since Duhab was unveiled last week," Lipton added.
"It is a set of heavenly chimes that sound on the appearance at the Gas House door of any member of the Civic Union."
---
See the full list of Fake and Pseudo Automatons and Robots here.
---