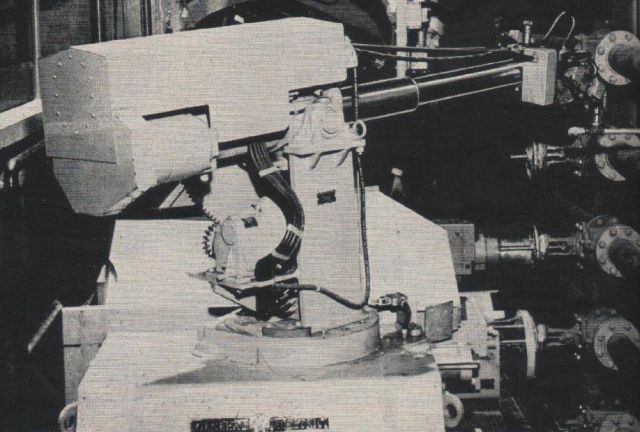 Five-ton robot on wheels sticks out it arm to turn a "hot" valve in Hanford plutonium plant.
One-Armed Robot Tackles Hot Jobs
A ONE-ARMED robot is turning the valves in the giant plant at Hanford, Wash., that makes A-bomb plutonium out of uranium. The new robot looks like a railroad handcar with a small Navy gun on top. It has no fancy name, just the unimaginative title "tool dolly." But it can do practically anything the human arm can do, and it can go where human arms can't go—into areas swarming with invisible, deadly radiation.
Operated either remotely or from the dolly itself, the robot can move around on its track; raise, lower, or extend its arm (the "gun"); and grab, twist, or bend with its claw hand. The dolly easily takes apart machinery—and puts it back together again —opens and closes doors, and works with all kinds of tools. Engineers of the General Electric Co., which runs Hanford for the Atomic Energy Commission, developed it.
Source: Popular Science, Aug 1950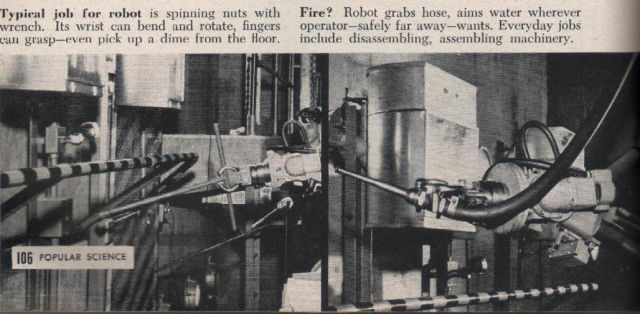 Not a Programmable robot, but a manipulator.
---