1983 – Bridgestone "Rubbertuator" – Takeo Takagi and Yuji Sakaguchi (Japanese)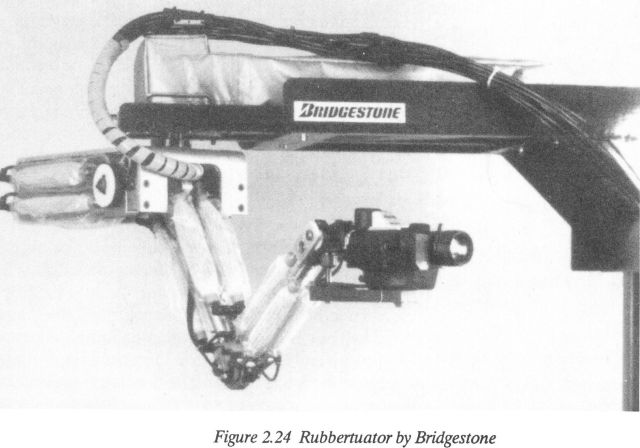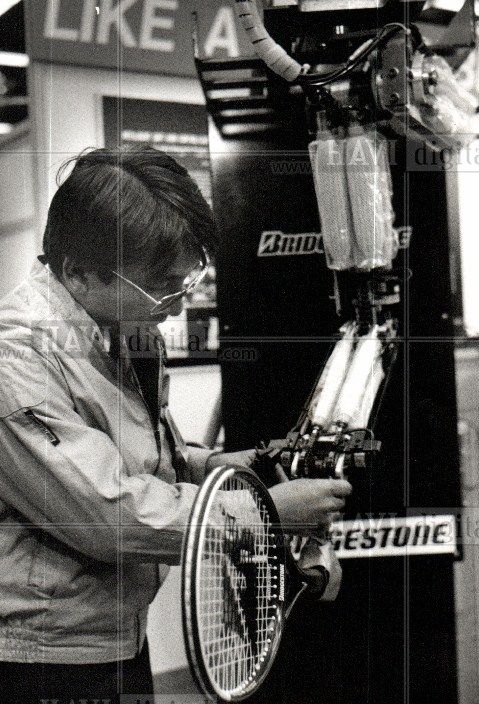 CAPTION: ROBOTS ON PARADE Keisuke Inada of Bridgestone Corp.of Tokyo adjusts the Soft Arm robot, a multijoint robot that resembles a human arm in its movements, at Cobo Hall. The Society of Manufacturing Engineers expects 25,000 people to attend its AUTOFACT '90, an exposition demonstrating computer-integrated manufacturing. Photo is dated 11/13/90.
Pneumatic actuator for manipulator Takeo Takagi et al
Patent number: 4615260
Filing date: Apr 25, 1984
Issue date: Oct 7, 1986
Japanese pat in 1983
See full patent here.
---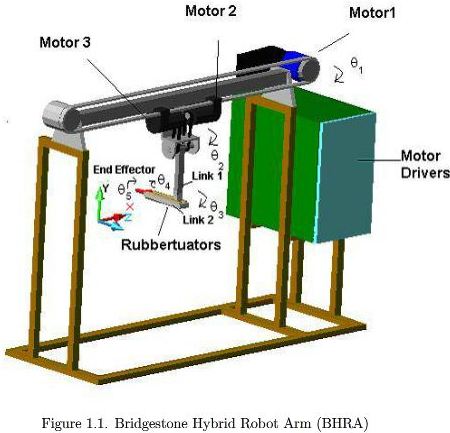 The Hybrid robot was mainly used for spray painting. Instead of being static, the arm could move sideways on a horizontal plane.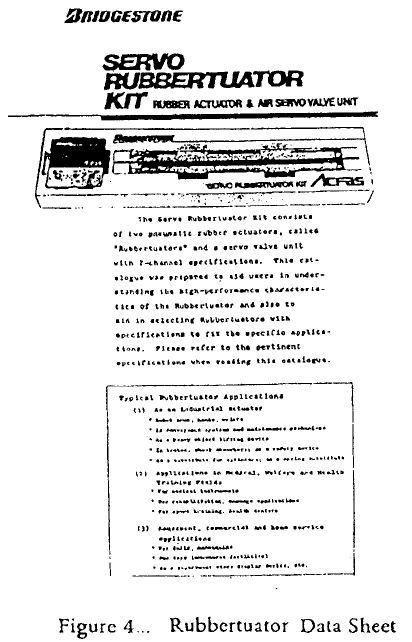 The Servo Rubbertuator Kits came with 2 pneumatic muscles, as in most cases they were to be used as an antagonistic pair i.e. each side alternatively 'pulls' as do the human muscles and joints they simulate.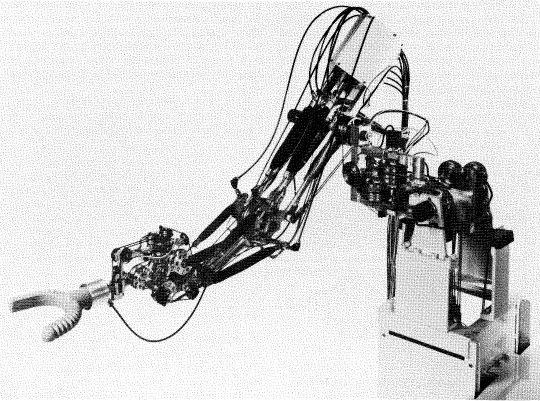 Pop Sci May 1985
Rubber-armed robot
Working together in Japan, researchers at Bridgestone Corp. and Hitachi Ltd. have developed what may be the most humanoid industrial robot yet. Using novel rubber "muscles" and a rubber "hand," the new robot arm (right) can perform delicate assembly tasks. At its heart are rubber actuators that power each of the arm's seven degrees of freedom of movement.

Caption: Bridgestone's rubber actuators are used in pairs. Robot's hand moves down as bottom actuator is filled with compressed air and top one is emptied.

These actuators, shaped like sausages, behave much like human muscles, shortening and lengthening as compressed air is fed in or bled out. This linear motion, transmitted through arm to bend at its various "joints." The actuator—called the Rubbertuator- is made from a high-molecular-weight rubber tube covered with braided fiber. A flange at each end permits the entry and exit of compressed air. Bridgestone developed the rubber used in the actuator during research into long-life automobile tires. Hitachi built the arm's mechanical components. The prototype arm works under the direction of a 16-bit microprocessor, and it can lift objects weighing as much as 4.4 pounds in its simple horseshoe-shaped rubber "hand."
One of the main advantages of rubber actuators, engineers say, is that they can control not only the movement of a robot's arm but the force of that movement. Thus, rubber-armed robots can be designed to carry out the low-force tasks assigned to them but will stop should they encounter a human worker. Because the robot is pneumatic, it can be supplied by a remote air compressor, permitting installation where space is limited. Hydraulic robots, another common type, require their own bulky power supplies nearby. Bridgestone and Hitachi are now marketing their robot to companies that perform precise assembly operations using fragile components. —Stuart F. Brown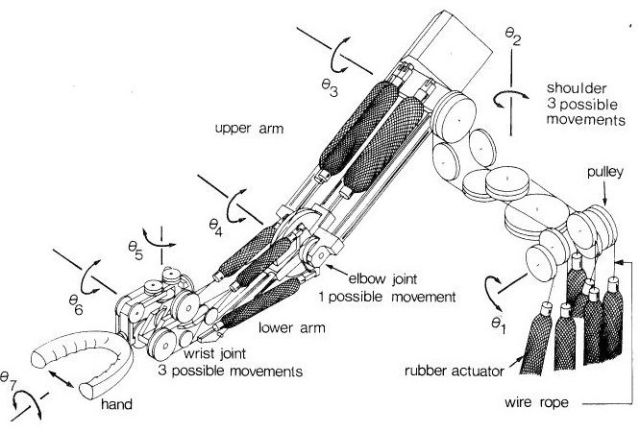 For a more complete article of the Bridgestone-Hitachi Arm see "Rubber muscles take robotics one step further" in Rubber Developments Vol 37 no 4, 1984 pdf here.
---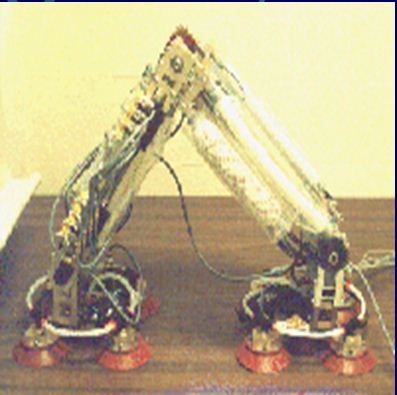 "ROBIN" – Vanderbilt University Bridgestone "Rubbertuator"-based Wall Climbing Robot.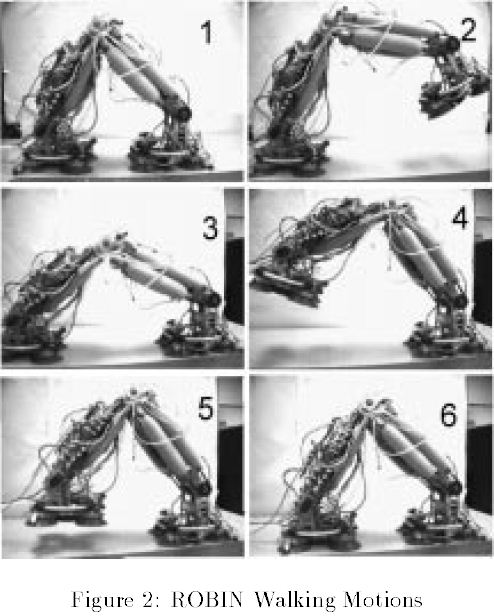 ROBIN [ROBotic INspector] was patented September 3, 1996 in the United States (Patent Number: 5,551,525) by Robert T. Pack, Moenes Z. Iskarous, and Kazuhiko Kawamura.
Technical Description
ROBIN is a 4 DOF serial mechanism with fixtures at each end. By fixing one end of the mechanism and moving the other, ROBIN can walk, turn and transition between surfaces. ROBIN uses all off-the-shelf gears, bearings, and fittings so the system can be reproduced easily and inexpensively. ROBIN's motions are powered by Rubbertuators which are rubber pneumatic muscles that have a high strength-to-weight ratio. The pneumatic muscles and vacuum fixtures are controlled by a master-slave network of microcontrollers that continually monitor pressure, valve settings, and joint angles to keep the robot in position and on course. Chain tension of each joint is maintained by a "torque" controller. Initially, each joint's microcontroller is loaded with a table of pressures and corresponding encoder positions. Motion is achieved by applying an additive pressure, or "torque", to a rubbertuator in the desired direction of rotation. Power is provided to the robot by an umbilical cord that carries air lines, DC power, and a serial communication line for interfacing with a host computer that directs ROBIN's actions.
Advantages of ROBIN
High Mobility
Walks on planar surfaces (horizontal or vertical).
Transitions between horizontal and vertical surfaces, as shown in this image.
Steps over obstacles and gaps on surfaces.
Large Sensor Payload – 8Kg for prototype.
Scalable to Task – Design can be enlarged or miniaturized for a specific task.
Light Weight – 20Kg for prototype.
Versatile Fixtures – Handles many types of surfaces using interchangeable vacuum, magnetic, and grippers.
Parallel Multicontroller – Modular, extensible control system that can support fault tolerance and hot-swapping of controllers.
Applications of ROBIN
Building Inspection – Outer walls, windows, elevator shafts.
Aircraft Inspection – Wings, fuselage, cowling, engine mounts.
Ship / Tanker Inspection – Outer Hull, inner tank surfaces.
Bridge Inspection – Support columns, superstructure, bearings.
Behavior Explanation
Patent number: 5551525
Filing date: Aug 19, 1994
Issue date: Sep 3, 1996
---
Tags: 1983, Air Muscle, Artificial Muscle, Bridgestone "Rubbertuator", Japanese, McKibben Muscle, Pneumatic Artificial Muscle (PAM), pneumatic muscle, ROBIN Robotic Inspector, Robot, Takeo Takagi, Yuji Sakaguchi