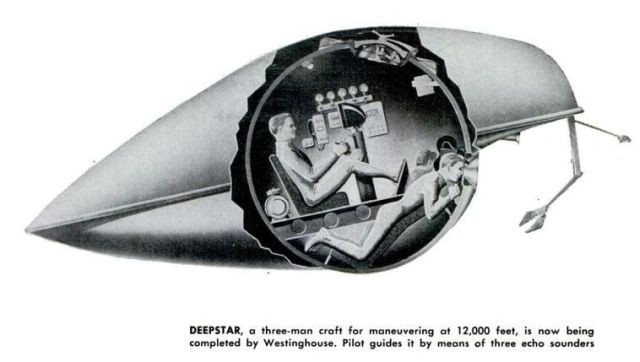 Image source: Popular Mechanics, August 1963.
1962 – Deepstar 4000 Diving Saucer – Jacques-Yves Cousteau / Westinghouse launched in 1965.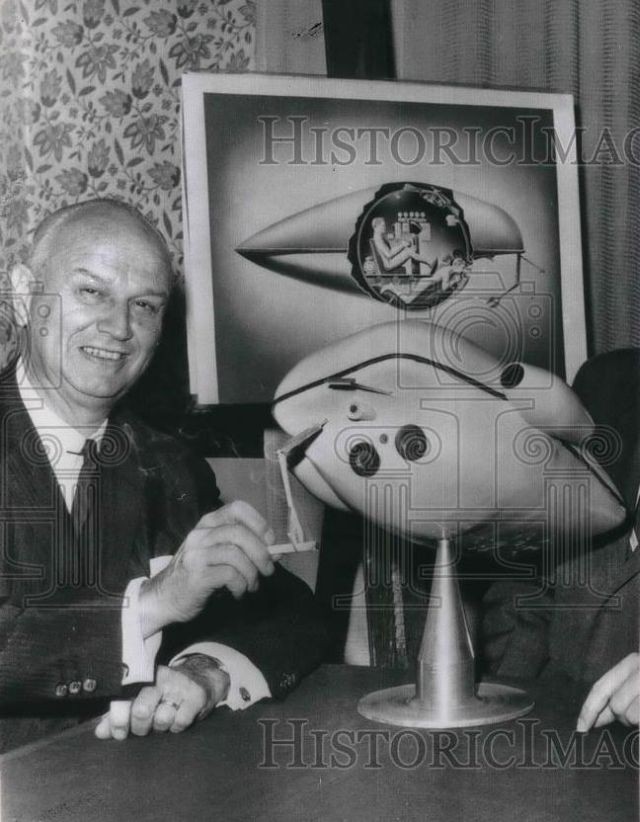 26 Jun 1962-NEW YORK: William E. Knox, president of Westinghouse International, demonstrates the flexibility of a remote control arm, part of a unique deep-sea vehicle at a 6/26(/62) press conference. The new self-propelled vehicle, to be named "Deepstar," which will be built by Westinghouse Electric, will give a three man crew the maneuverability needed to explore the "last frontier on earth." A cutaway drawing of the vehicle appears in the background.
---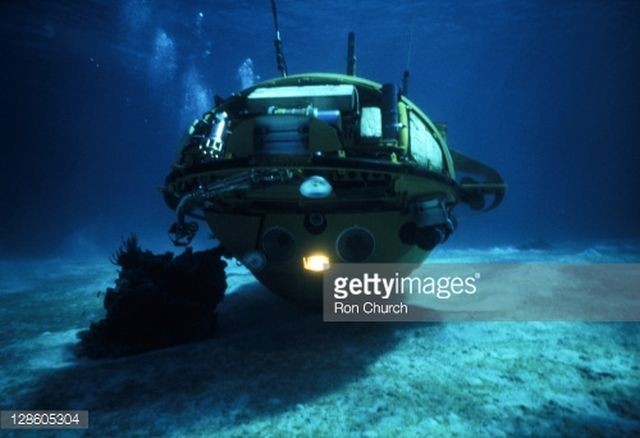 Manipulator arm is folded away.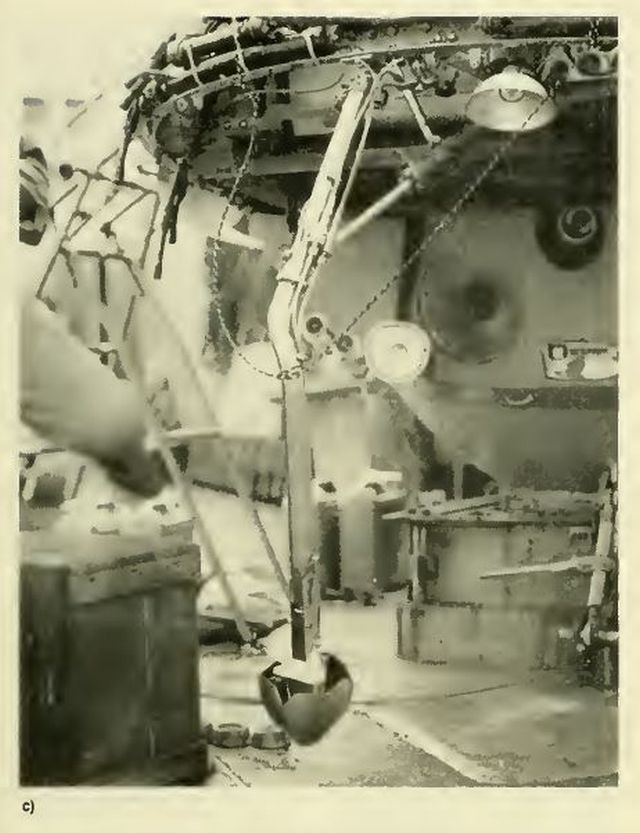 Source: Undersea Studies With The Deep Research Vehicle Deepstar-4000, March 1969
Manipulator and Bottom Sampling Devices
A single mechanical arm (Figure 61) with only three degrees of freedom can be installed in about three hours on DEEPSTAR. This arm weighs 15 pounds, has a maximum reach of 42 inches and can lift about 35 pounds. In most cases, due to the limited dexterity of the arm, the vehicle is manoeuvred in conjunction with the arm to obtain a sample. A basket, which can extend from the port side of the vehicle, is used to store samples. At the outward end of the arm is an orange peel sampler. Experience showed that the sampler's fingers were often bent and forced out of alignment. A more rugged arm with increased dexterity would be far more effective and a variety of hands or end samplers is also desirable.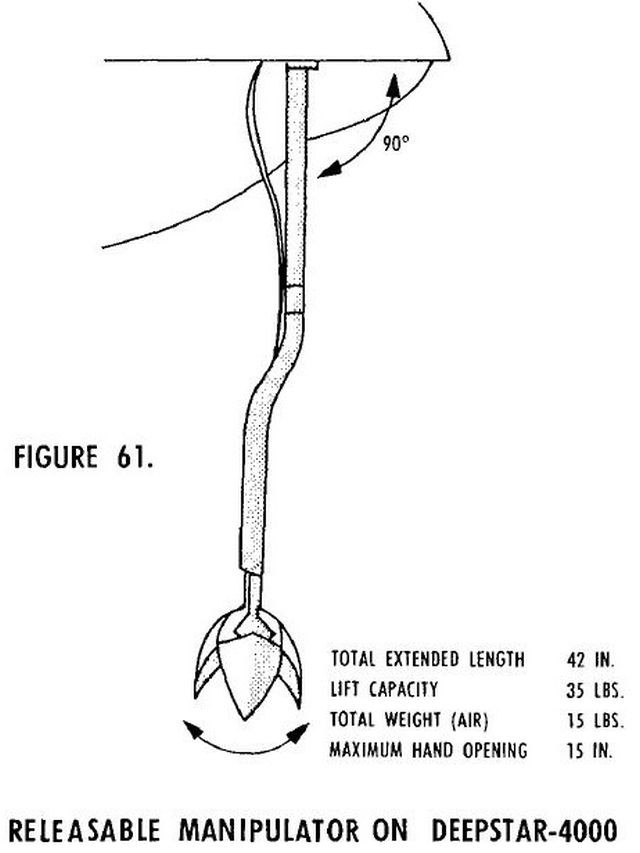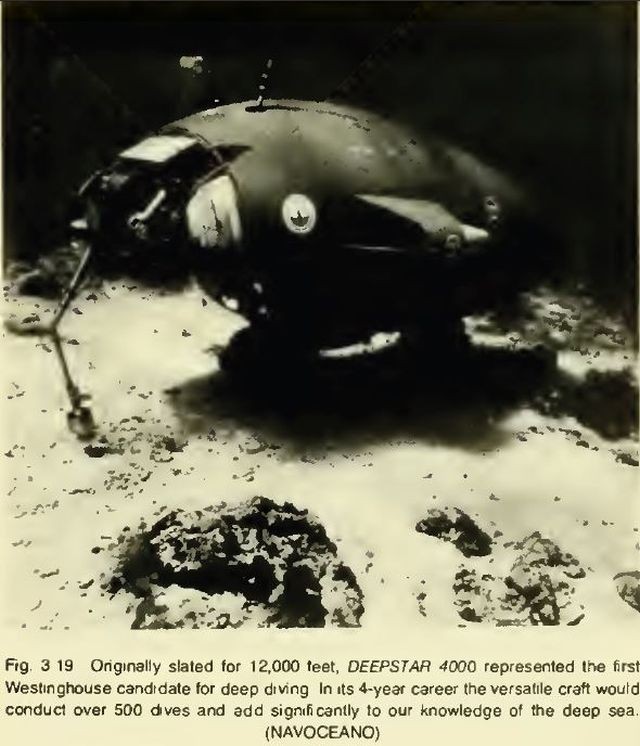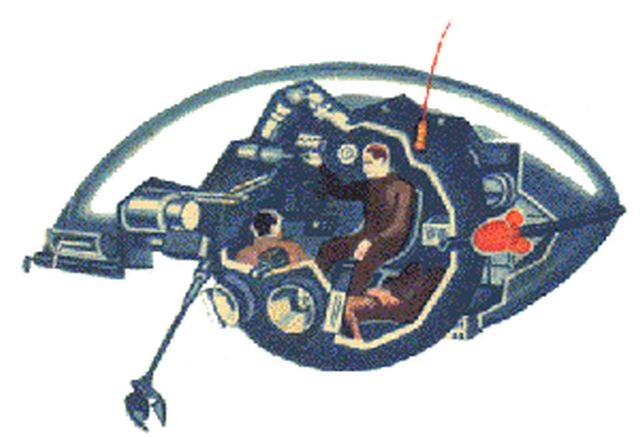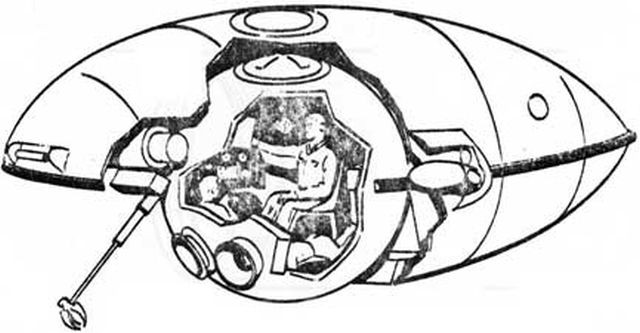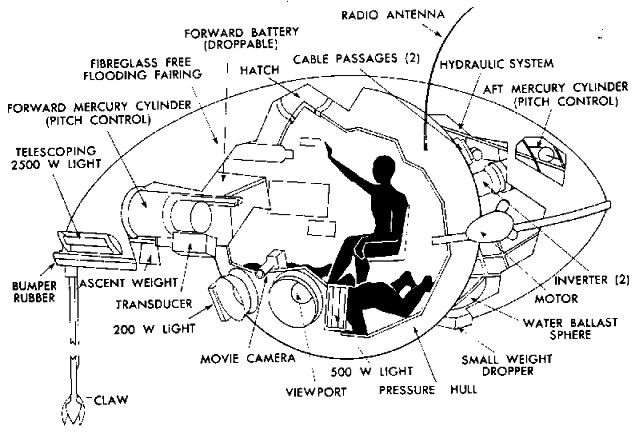 ---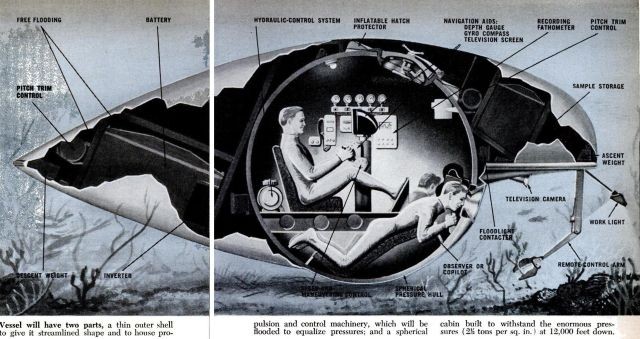 Image source and for in-depth article see Popular Science, October 1962.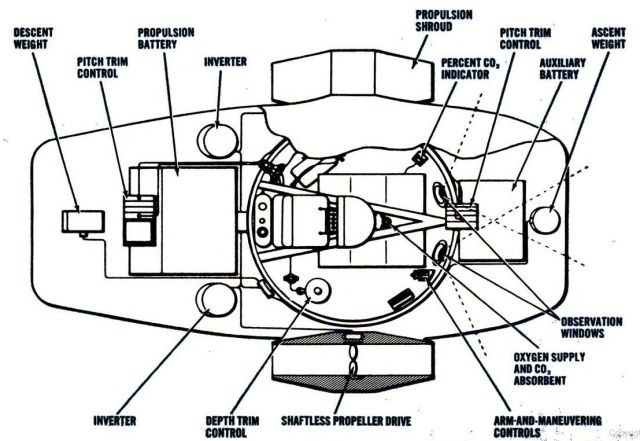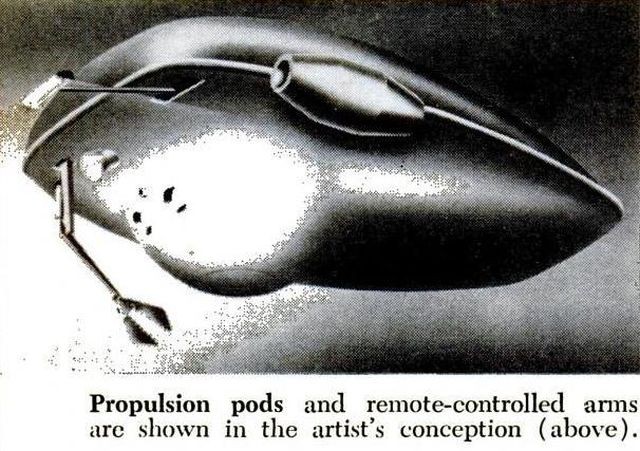 ---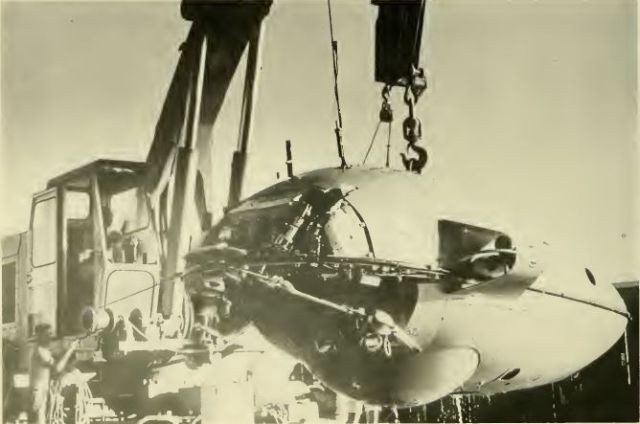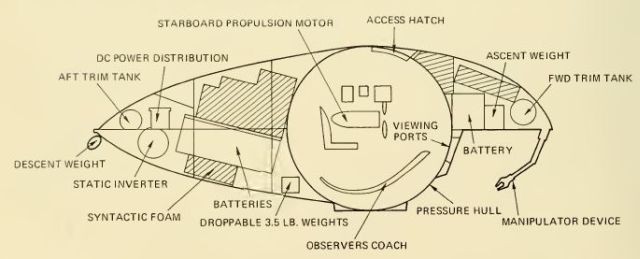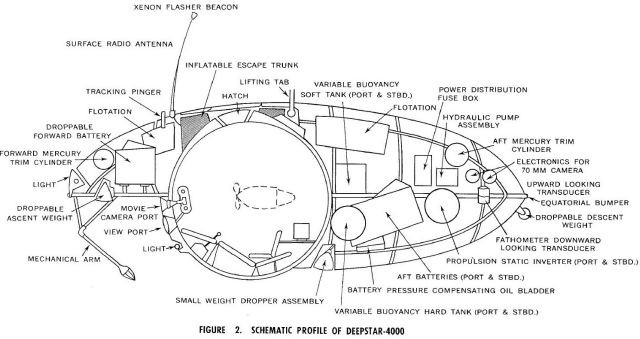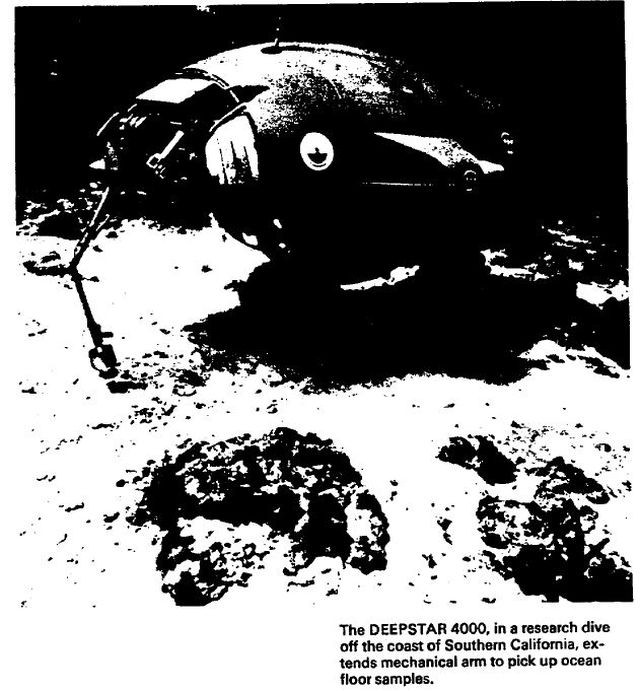 ---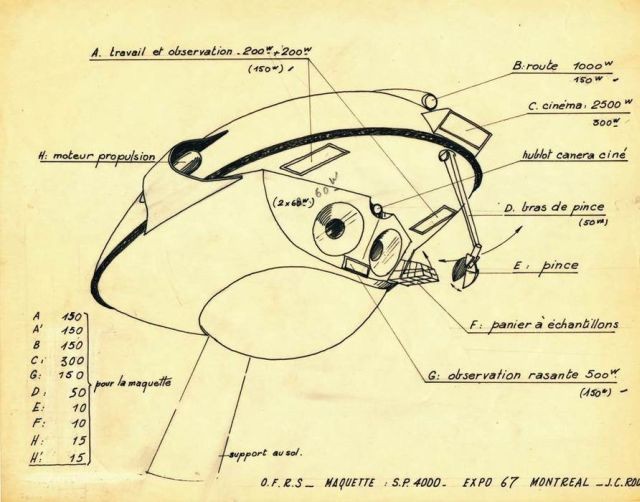 Initially the S.P. 4000, it was built in collaboration with Westinghouse and became the D.S. 4000, or Deepstar 4000.
Cousteau's futuristic designs were done by his long time friend, Jean Charles Roux. The above illustration being for the S.P. 4000 maquette in Expo 67, Montreal.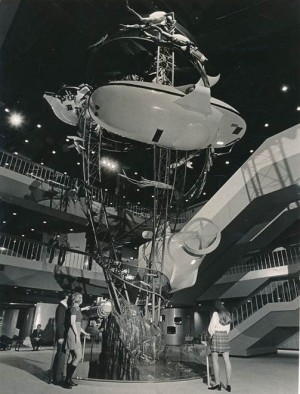 Expo '67, Montreal.
Image source: here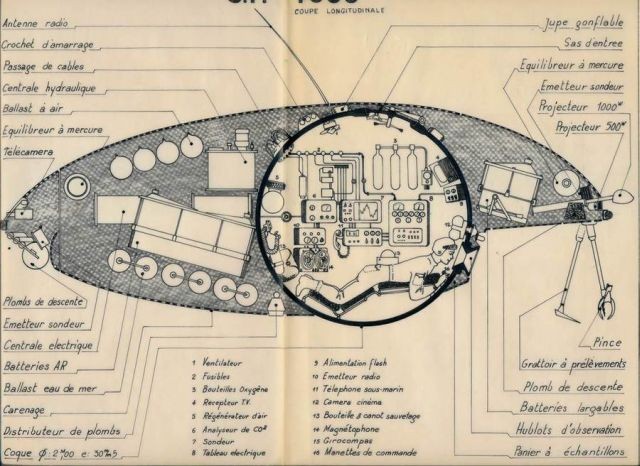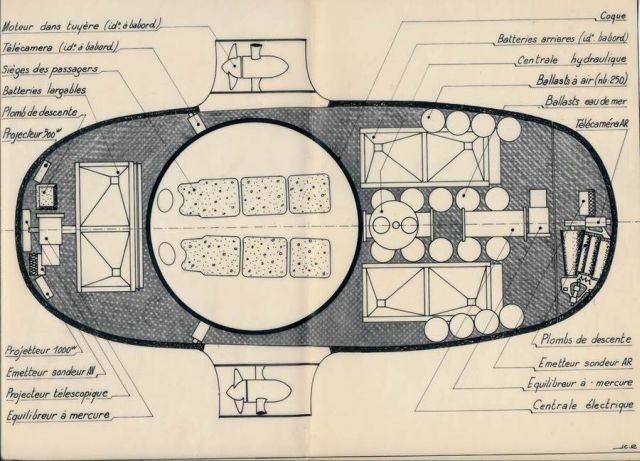 ---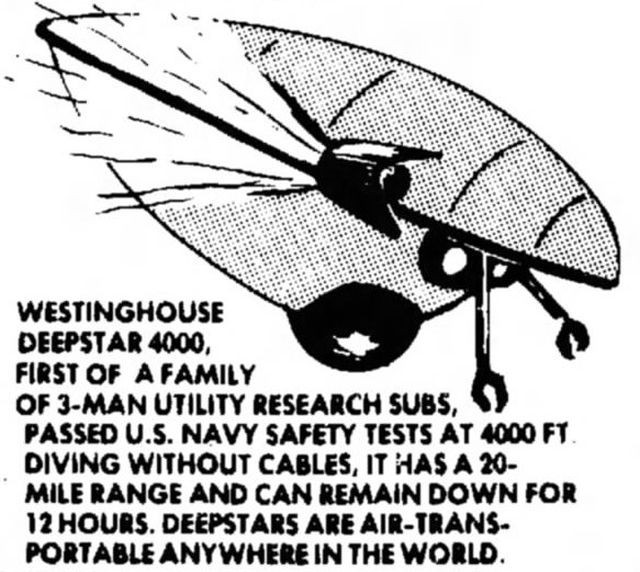 Source: Tyrone Daily Herald, Jul 14, 1967.
---
See Cousteau's earlier SP-350 here.
See other early Underwater Robots here.
---