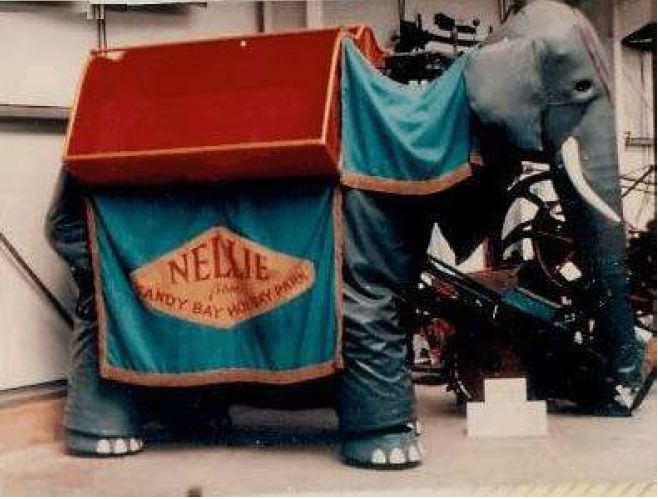 Nellie at Sandy Bay Museum. Photo courtesy Larry Gavette.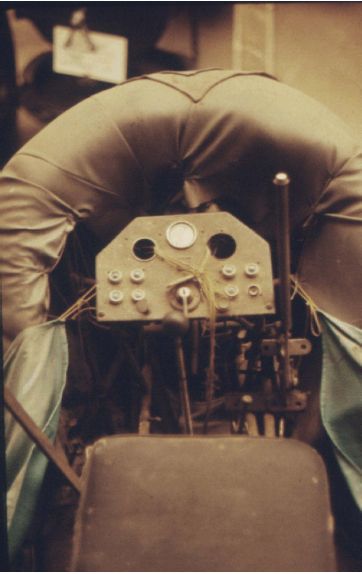 Nellie's control panel. Photo courtesy Larry Gavette.
Caption: Perhaps the earliest model built still in existance, this elephant was in the Sandy Bay Country Museum in Exmouth when this video was taken in 1980 or so. This model is the one sold at auction and ended up in Florida, United States in 2010. – video courtesy Larry Gavette.
---
MY FATHER bought Nellie, our mechanical elephant, in the Seventies through the World's Fair paper. We had dreadful problems insuring it for transport to Devon. It weighted an incredible amount and we had to hire a large trailer and police escorts etc.
We eventually got Nellie to Sandy Bay Holiday Park [Sandy Bay in Devon (now Devon Cliffs holiday Park)]. There she was filmed for local TV and we planned to use her for children's rides, but her brakes were all independent and didn't work well on our sloping site.
My father died 16 years ago and the last I heard is that Nellie was at Cranford Tavern, Exmouth.

Noelle Price, Exeter. (from here-link seems to be dead)
Caption: A silent clip showing Nellie when she was owned by the Cranford Tavern in Exmouth in the 1970's. She eventually ended up at Sandy Bay Holiday Park after her walking days were done. She evenutally was sold in auction, and it is believed she was brought to the United States where, after three owners she has found a safe home in Florida. – Video courtesy Larry Gavette.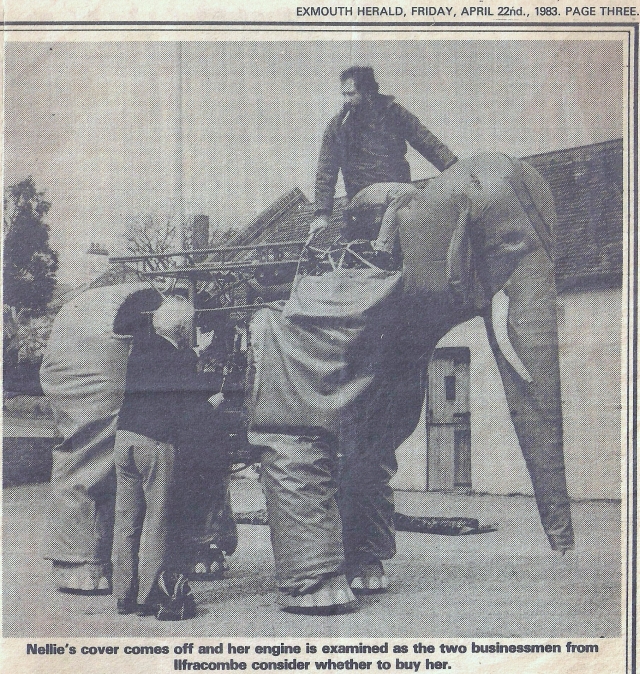 ---
Elephant from Christies auction in 1995. Blurb from the Auction Site: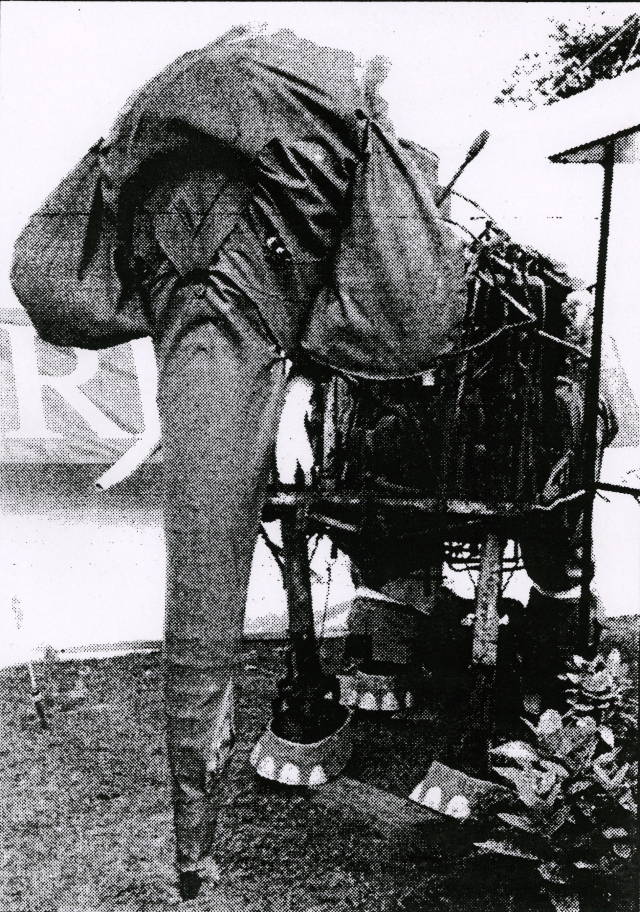 c1949 MECHANICAL ELEPHANT "NELLIE"
Price Realized (Set Currency) £8,050 ($12,463)
Price includes buyer's premium
Estimate£3,000 – £6,000 ($4,645 – $9,289)
Sale 5454, 9 September 1995
London, King Street
Lot Description
c1949 MECHANICAL ELEPHANT "NELLIE"
Registration No. 4554F (not currently registered and thought not road legal)
Chassis No. Unknown
Engine No. 60158
Grey in parts. Driven from behind the ears!
"This remarkable machine was the brainchild of the engineer Frank Stuart of Thaxted in Essex who was quite an expert in a number of theatrical requirements. Thought to have been built in around 1949 Mr Stuart, who specialised in hydraulic developments, decided to demostrate the use of hydraulics in traction movement by building the elephants. It is thought that three were built, Nellie, Potsy and Jumbo. The power unit is a 10hp Ford side valve unit driving its own gearbox and back axle assembly. Essentially the legs are driven to pivot in a small arc which simulates the four legged walk of a real elephant. At the base of each leg there is wheel with a thick solid rubber tyre and motion is created by an ingenious system of hydraulics which brakes the wheel, enabling Nellie to walk forwards. Included in the sale are some quite comprehensive instructions of operation and a useful working drawing of Potsy by Frank Stuart, amongst other interesting articles of history and information. .

The early history of Nellie is unknown although by the late 1950s she was in Essex before becoming owned by The London Tyre company who were taken over by Goodyear. They fully recommisioned the elephant and used it for some demonstrations before selling her to the Ilfracombe Council for part of their holiday amusements. From there she went to the Sandy Bay Holiday Camp in Exmouth. Nellie was last used, we believe, in 1984 when demonstrated on the BBC Pebble Mill At One programme. Sadly, she has been somewhat neglected since then and will require careful restoration and a new skin before returning to the urban jungle! "
---
It appears that Hew Kennedy and James Hepworth, a farmer and antique dealer respectfully, out of Shropshire may have been the purchasers, for it is mentioned that they took 4 years to restore it before it was offered by Hawkins in the 1998 Olympia Antique Auction. I'm not sure when or why the howdah was removed and discarded.
---
Jeremy Clarkson rides this elephant in one of his TV programs – Jeremy Clarkson's Extreme Machines Episode 6 -Weird And Wonderful, Aired on 12 February 1998. The date fits in with the Olympia auction below.
---
Olympia Fine Art and Antiques Fair – Hawkins & Hawkins – 1998
The same but restored elephant from the Christies auction in 1995.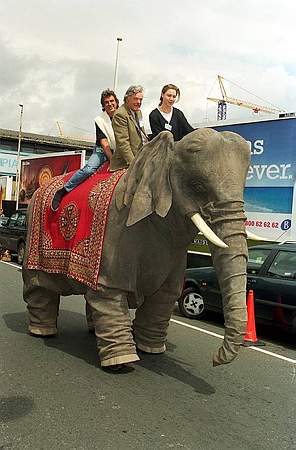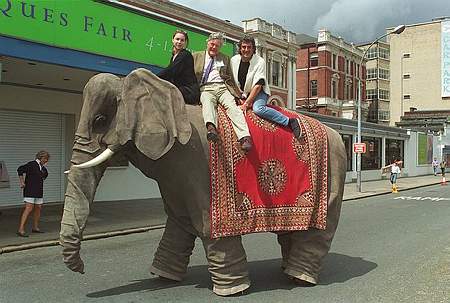 Optical illusion makes it look as if 'rug' has No. 8 on it!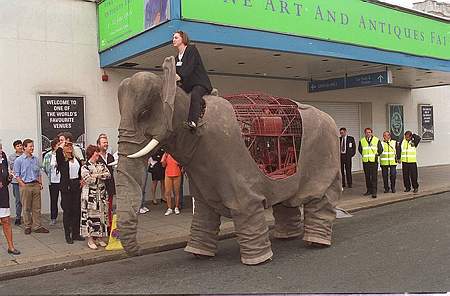 "THIS giant elephant was on the loose of the capital's streets yesterday. The beast drew gasps from pedestrians as it strode down the road. But the lifelike one-and-a-half ton jumbo was no dangerous Indian or African elephant – more of a pounds 100,000 white elephant. The 8ft-high children's ride was being put through its paces by antiques dealer Emma Hawkins, 25. It wasn't exactly a white-knuckle ride as the hide-covered, steel-framed monster can only reach a stately 12mph. And it had to be helped over a speed bump by a forklift truck. The four-gear machine is driven by a 10bhp Ford engine and is the star attraction star attraction of a Fine Art and Antiques Fair starting at London's Olympia on Thursday. It took restorer Hew Kennedy four years to rebuild the motor and Heath Robinson system of pulleys and levers that control the legs. Emma, 25, said riding the elephant, which has flappable ears and resin tusks, was "far more comfortable than a real one". Her father John Hawkins is offering it for sale at a jumbo price of pounds 100,000. He said: "It's unique. But only someone who is rather eccentric would want it."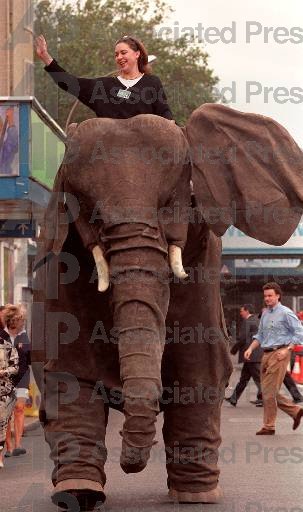 Antique dealer Emma Hawkins sits atop a full-sized mechanical elephant outside the Olympia exhibition centre in London, Wednesday June 3, 1998. The elephant has a top speed of 6 miles per hour and is being offered for sale at the Fine Art and Antiques Fair at the centre for £100,000 ($US 160,000). (AP Photo/Louisa Buller)
The elephant below found it way to the U.S. from England some time after 1998 when it was sold at the Olympia Antiques Auction by Emma Hawkins, and purchased by Wil Markey.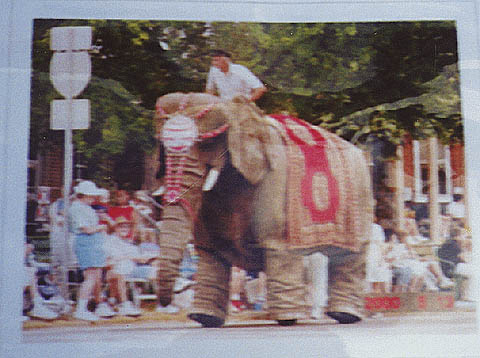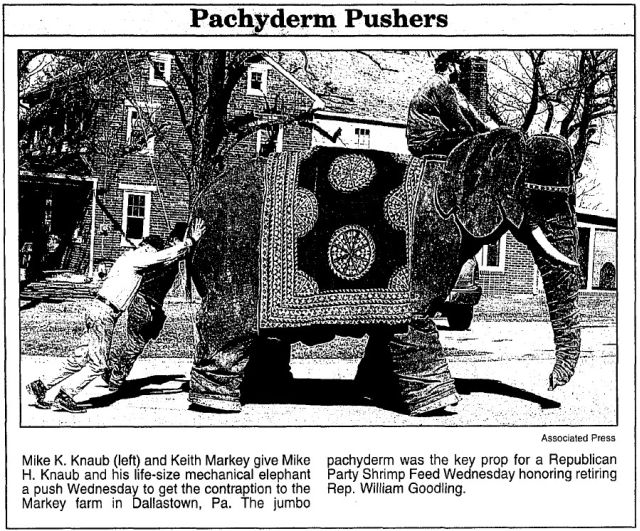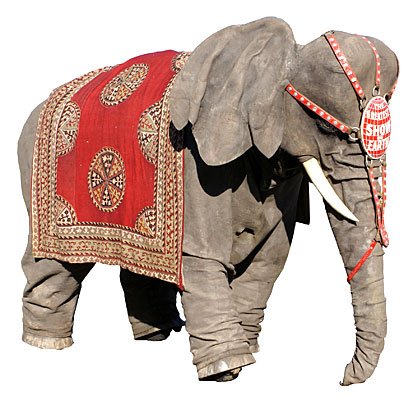 Here it is being sold at Red Baron's auction house in Atlanta, 2007 (above). The "seri" (head dress) is one typically used in Barnum's Circus.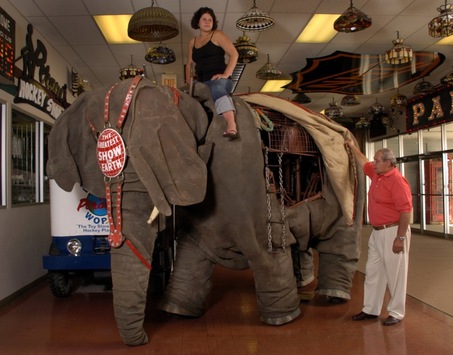 Blurb associated with image:
Mechanical elephant latest addition to Bob Perani's unusual collection

Published: Saturday, July 07, 2007, 8:00 PM Updated: Saturday, July 07, 2007, 8:07 PM
By Brooke Rausch | Flint Journal

FLINT — Noggin del Fuego II — a car transformed into a giant flaming orange head — is on display at the Dort Mall, and has been joined by a 60-year-old mechanical elephant and a "one-horse" 1936 Rolls-Royce. Why? "It's just different," said Bob Perani, owner of Perani's Hockey World and the Dort Mall. "I like unusual stuff in here." A quick walk through the mall confirms that.

The mechanical elephant is so tall that a set of doors at the mall had to be modified [or was the elephant's head lowered?-RH Feb 2011].
The elephant was built 60 years ago by an English inventor named Frank Stuart. He built other versions, and at least one was used at English resort towns where visitors could ride the machine. Perani's elephant has a four-cylinder engine and hydraulic "four-foot" drive system, with a wheel concealed in each foot. Steve Brown, a retail manager for Perani's Hockey World, rode the elephant when he and five others moved it into the mall late in June. The elephant was not running when it was brought to the mall. "We plan to get the elephant running," Perani said. "They had it running down there" (at the Atlanta auction where he bought it). Perani is part of a group that has bought the Flint Generals hockey team, and said he might use one or more of the vehicles to promote the team. Perani's daughter Lahna Ward ……. then said, "That's the first time I've been on ……. an elephant."
In both images (above and below) the howdah is not present.
Perani was the eventual owner for a short period of time. The head looks lowered, maybe to get it through the garage doors.
---
The Parradine Connection.
For researchers following this elephant, there is a website
here
that shows a black and white picture of this elephant. John Parradine Jr. made some exquisite British sports cars, and used a Jumbo elephant as his logo. John Jr tells the story (I actually called him on the telephone) of when his father, John Parradine Sr., was cleaning out a garage at his haulage business, he found a set of air-horns. John Sr tells his son the story of a mechanical elephant, supposedly built by John Sr, at the request of an Austrian ex P.O.W. who wanted it to make a living giving kiddies a ride. The air-horns were a failure at making the elephant sound realistic. End of story. Further research lead to finding out that the image on the website is a black and white copy from the Hawkin's auction (see above). John Jr, after seeing the elephant at auction, believed it to the the one from his father's story, without realising that possibly up to 25 mechanical elephants were built by Frank Stuart. We also find out that Parradine Sr, had one elephant in storage, and scrapped it on default of payment. This is the more likely story, unfortunately for John Parradine Jr.
---
See other early Mechanical Elephants, Horses, and other Walking Animals here.
---